The CDP want to see a thriving economy that works for people and planet in the long term. To do this they focus investors, companies and cities on taking urgent action to build a truly sustainable economy by measuring and understanding their environmental impact. Accuvio's CDP Reporting Software provides a dedicated solution specially for making CDP reporting easier, faster, and more robust.
The CDP, formerly the Carbon Disclosure Project, runs a global disclosure system that enables companies, cities, states and regions to measure and manage their environmental impacts. The CDP have built the most comprehensive collection of self-reported environmental data in the world.
The CDP's network of investors and purchasers, representing over $100 trillion, along with policy makers around the globe, use their data and insights to make better-informed decisions.
In 2018 the CDP amended and added questions which align to the Task Force for Climate Related Financial Disclosures (TCFD) recommendations and now have a more sector focused approach to reporting and disclosure. In 2019 further changes were applied and additional alignment between the DJSI RobeccoSam, the TCFD's and the GRI standard were clearly coming into play.
Accuvio first became a CDP accredited solution provider with its CDP Reporting Software solution in 2012 following independent verification of the software by the Greenhouse Gas Management Institute and interviewing several Accuvio CDP responding customers.
Accuvio is proud to support the CDP in 2019 and 2010 as an Accredited Solution Provider as we share many values and goals. Accuvio helps companies overcome the data collection and reporting of their Sustainability responses, meaning we help CDP's network of investors and purchasers to make better-informed decisions, while enabling respondents to achieve a higher CDP score.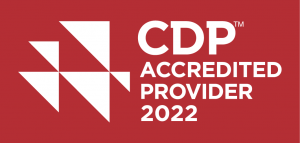 ---
Instant CDP Data (with a single click)
The Accuvio instant reports, produce all of the numerical data that you require for an accurate and complete submission to CDP. It includes everything from market based and location based emissions factors to even the new 2018 outside of scopes category.
The CDP outputs are "Ready to Submit". They are formatted, organised and presented in the exact layout and tables you need for submission.
We even colour matched the CDP submission portal for your convenience!
An example of the output results for CDP submission for section C7 of the CDP
---
How Accuvio Streamlines CDP Reporting